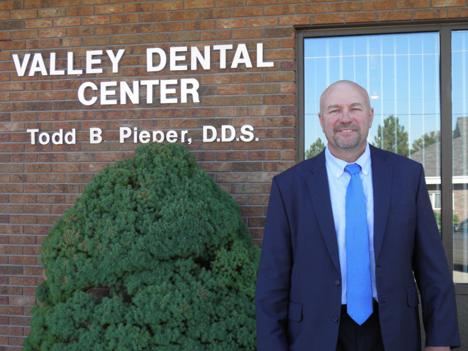 Todd B. Pieper, D.D.S.
At Valley Dental Center, we help you live a healthier lifestyle!
We are dedicated to providing the best in dental care and customer service! Call us today so that we may meet you and help you make our practice your dental home.
We accept most dental insurance policies.
Prompt Emergency Care
Conscious Sedation
Painless Root Canals
Cosmetic Dentistry
Porcelain Laminate Veneers
Tooth Whitening
Family Dentistry
Wisdom Tooth Extractions
Dental Implants

We service Scottsbluff, Gering, Torrington, Mitchell, Morrill, Bayard, Kimball, Bridgeport, Alliance, Minitare and Surrounding areas.
Valley Dental has been featured in The Star-Herald for our staff's service in Jamaica! Read the full story here: Dentists on a Mission
Business ID: 1110140982 | Universal ID: e7c9df9a-67d8-5cdb-bb18-6179e19b54b3