Thousands of people around the world hospitalized with COVID-19 have been treated with what's known as convalescent plasma donated by people who've recovered from the infection.
Doctors hope to harness from that plasma the antibodies that donors have produced in response to the disease. The plasma is given to patients with the goal of helping them fight off the infection or preventing infection in the first place.
But a Sioux Falls, South Dakota, biotech firm thinks it has a better alternative to convalescent plasma: A barn full of dairy cattle that are producing human antibodies to COVID-19.
The company, SAb Biotherapeutics, plans to begin testing the antibodies in human trials yet this summer.
The cattle, a Holstein mix, look just like those found on many Midwestern farms. But they're not your basic bovine. They've been genetically modified to have a partially human immune system.
The company then injects them with a noninfectious portion of the novel coronavirus so they produce antibodies to fight it. "We have already shown our antibodies neutralize the SARS-CoV-2 virus (the more technical name for the novel coronavirus that causes COVID-19), and we have already produced a clinical material to be used for our clinical trials," said Eddie Sullivan, the company's president and CEO.
And, because they inject the cows over and over again, the animals build up high levels of those neutralizing antibodies, more than what's found in convalescent plasma, he said.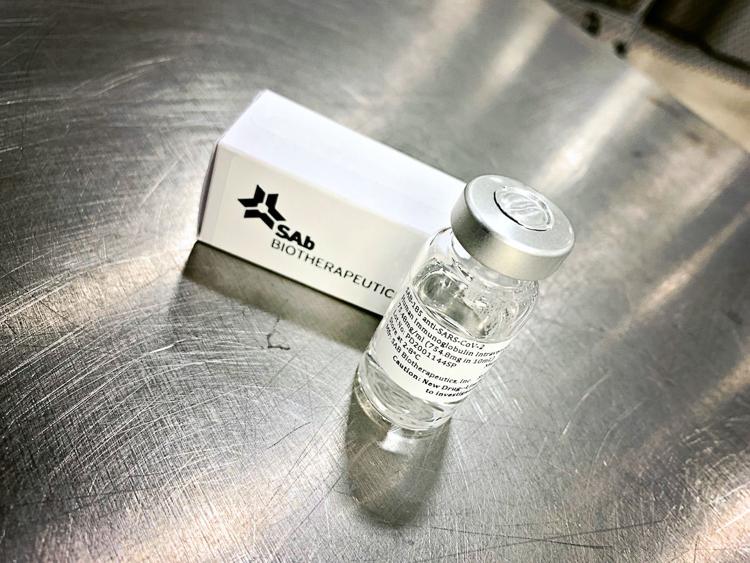 The company announced recently in a press release that the cow-made antibodies were four times better at blocking the virus from entering cells than the most potent convalescent plasma they studied.
William Klimstra, a viral immunologist at the University of Pittsburgh, tested the cow-made antibodies against convalescent plasma in cell cultures.
"In the cell culture models, we showed there was more neutralizing capacity in cow serum and antibody preparations than in convalescent serum," said Klimstra, who has worked with SAb since 2012.
The research was shared by the company but has not been published in a scientific journal.
The cattle, Sullivan said, have a couple of other advantages over human donors. For one, cows are big animals and can produce a lot of plasma, donating 30 to 45 liters a month versus the 2 to 3 liters a human donor could supply.
The cattle also have a more robust immune response than humans, in order to keep their ruminant guts from being overrun by pathogens. The repeated injections bump up that response. And the cattle live in a controlled environment, unlike human plasma donors who come from different locations and may be exposed to all sorts of things.
The company's technology, Sullivan said, also produces a polyclonal response, meaning the antibodies can bind to more than one site on the virus. Monoclonal antibodies, as the name suggests, can bind to only one.
Sullivan said the polyclonal response is important because the virus could mutate. "If a virus mutates on that place where a monoclonal antibody (binds), that monoclonal (antibody) is no longer functional," he said.
It would be difficult, however, for a virus to mutate in so many places that polyclonal antibodies, actually a collection of molecules, would become ineffective, he said.
"The natural way our bodies fight disease is a polyclonal response," said Sullivan, who has degrees in molecular biology and reproductive physiology.
Meantime, several monoclonal antibodies to the coronavirus also are expected to enter clinical trials this summer. According to a recent commentary in the Journal of the American Medical Association, those antibodies have been chosen to target a part of the virus that has held steady. Some products will include a combination of two monoclonal antibodies targeting different sites.
In addition, another company, Regeneron Pharmaceuticals, announced that it had started human trials with a drug derived from mice, CNN reported.
Such antibodies generally are viewed both as a potential treatment and a possible preventative, in lieu of a vaccine, to keep people from getting sick.
The technology behind SAb Biotherapeutics' approach dates back nearly two decades. Since 2014, the company has produced antibodies to a number of infectious diseases, including Ebola, Zika and the original SARS, using cattle.
The company had completed a clinical trial in humans with antibodies against Middle East respiratory syndrome, which is caused by a coronavirus related to the novel coronavirus, and was proceeding toward a second phase of trials when the pandemic struck.
Those experiences gave the company a head start. The cows were producing antibodies to the novel coronavirus within seven weeks. The company has initial funding of $9.4 million through an existing federal contract to take the project through preclinical trials.
The company has been working with the Food and Drug Administration through the testing process and would eventually have to get approval from the agency, as would the makers of any new drug, before the product could be used on a wider scale in humans.
Sullivan said it's rewarding to get to a point where the technology, which took years to develop, is being put to use and can perhaps have a significant impact on one of the most serious health threats in a lifetime.
"This is why SAb and our employees have worked so hard over the last few months," he said. "I have an amazing, dedicated team of scientists and individuals who have been just absolutely focused on being able to move this forward."