Hundreds of cyclists will ride through western Nebraska communities as the Tour de Nebraska brings its bicycling adventure tour through several communities.
An estimated 467 people are expected to participate in the Tour de Nebraska, according to press releases from the Tour de Nebraska.
That will mean hundreds more people on bikes will be traveling in the community, Katie Bradshaw, a cycling instructor certified through the League of American Bicyclists. Bradshaw has been working in advance of the Tour de Nebraska, and in general, to educate people drivers in the community about safe habits to ensure they are sharing the road with bicyclists.
Bradshaw says she has been using a bicycle as an additional transportation option for 22 years. Often times, during events such as the Tour de Nebraska, cyclists won't just be on the routes that are part of the event, but traveling around the community to get supplies, check out sites and other activities. Tour de Nebraska will travel through the Panhandle June 19-23 and have stops in Sidney, Kimball, Gering, Scottsbluff and Bridgeport.
She, as well as Tour de Nebraska, offered a few tips to safely share the road with cyclists during the Tour de Nebraska (and all year long):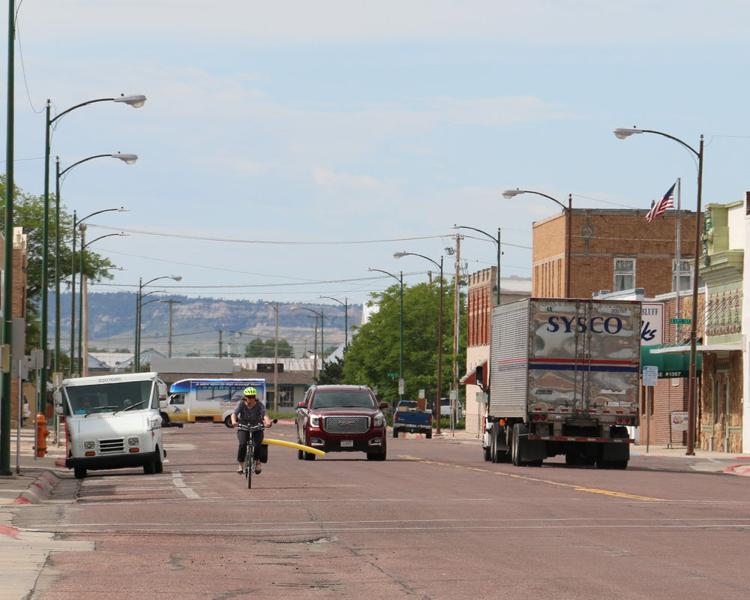 — Treat a person on a bike as you would a vehicle
Nebraska traffic law outlines that bicycles are "a legitimate form of transportation," Bradshaw said.
"Treating a person on a bicycles as you would a vehicle goes a long way toward predictability," she said. "That's a key."
Drivers of vehicles should abide by traffic laws around bicycles and cyclists also need to follow laws. Traffic laws ensure everyone acts in a predictable way.
For example, drivers should use their signals when they are driving and cyclists also use signals. If you don't know the signals a person on a bike may use, become familiar with them.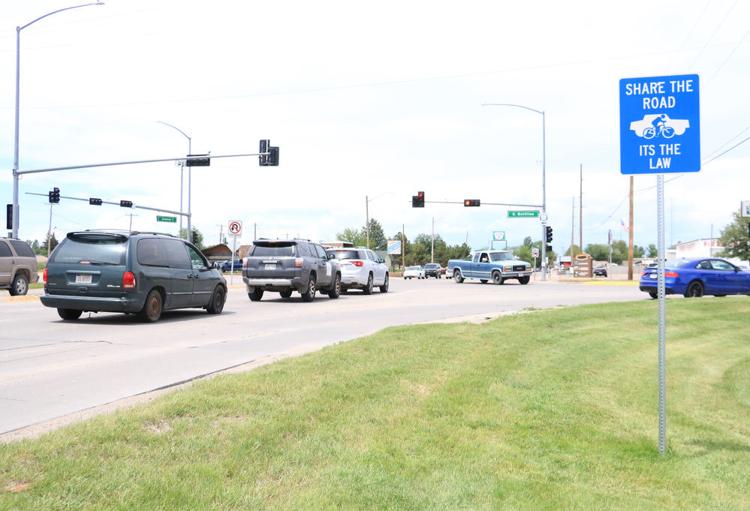 One common thing that Bradshaw says she sees drivers do is give cyclists "illegal courtesies." Drivers may stop for a cyclist who is crossing the road, despite the vehicle driver not having a stop sign and being in the lane of traffic. Bradshaw said this can put the vehicle driver and the cyclist at risk, such as when drivers behind the stopped car don't see they have stopped, pass illegally or even the other lane of traffic doesn't slow and stop. Bradshaw said she usually gives a friendly wave at drivers to continue as normal, and abides by proper safety rules and traffic laws.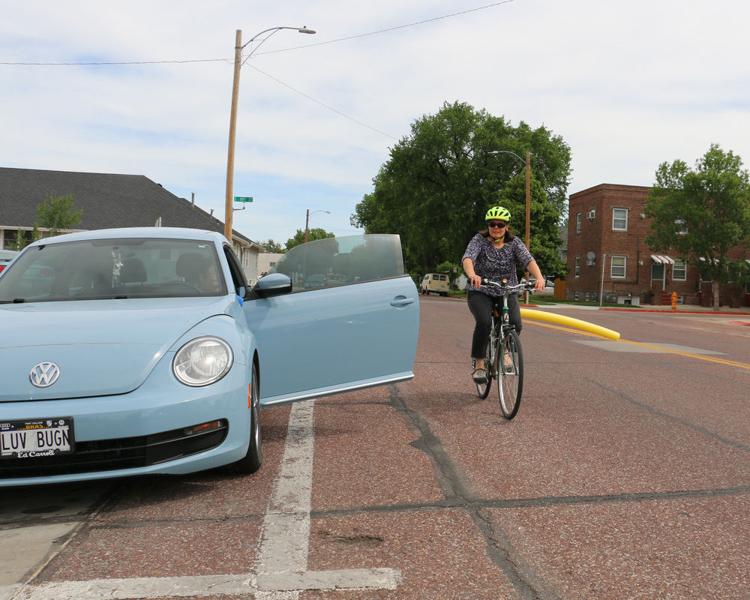 — Abide by the 3-foot passing law, and if possible, give cyclists more room.
Since 2012, Nebraska drivers have been required to give bicyclists or a person using a mobility chair in the street a minimum of 3 feet when passing them. Bradshaw reminds people that the law says "exercise due care with a minimum of three feet of clearance." Make sure you account for your mirrors in the required 3-foot passing width.
Drivers of vehicles traveling in areas that allow higher speeds, such as on highways that the Tour de Nebraska cyclists will be on, should give more clearance than 3 feet.
Drivers of high profile vehicles, hauling trailers and recreational vehicles should also give more clearance — preferably entering into another lane when passing. Wind from passing vehicles can create drag from a car that can pull a cyclist off balance and lose control.
Do not pass a cyclist until you can safely do so. Also, it's best to pass cyclists slowly and smoothly and avoid actions such as honking your horn that may startle a person on a bike.
Often times, Bradshaw said, people will accelerate when passing and it can make cyclists nervous. She has also had instances when people will try to "buzz" a cyclist or blow exhaust at her.
— Understand how cyclists travel through the community
Many people have a misconception that cyclists should ride traveling against traffic. Cyclists, when able will generally ride on the shoulder of a road or highway. However, Bradshaw said, that is not always practical as shoulders are often unsafe, with cracks and gaps, debris that has flown off from other cars and other hazards.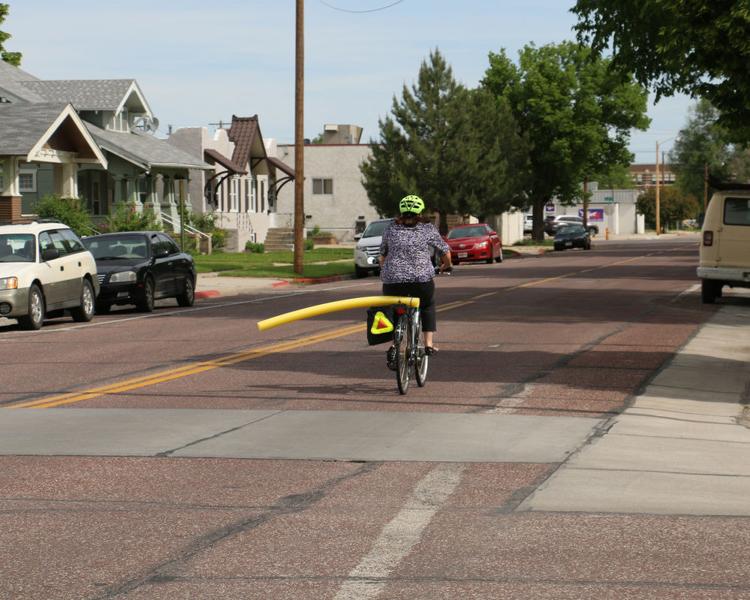 Cyclists can and do ride in traffic — not to annoy drivers, but because it is the safest place for them to travel. When practical or safe, they will ride in the lane as far right as can, with exceptions for turning, passing a vehicle or due to unsafe roadway conditions. If a cyclist is traveling in the middle of a lane, they are likely signaling to a driver that it is unsafe for a vehicle to pass them, usually because the street or road is not wide enough to give them enough clearance. There are many areas in the community with substandard width lanes, Bradshaw said.
"It's not that the person is trying to slow you down, trying to get in your way, that is not it at all, that is the last thing a bicyclist wants," Bradshaw said. "...Lane positioning is communication."
When able, cyclists may utilize city sidewalks. However, in some areas, such as downtown Gering and Scottsbluff, it is illegal for a cyclist to ride on the sidewalk because of pedestrians. In those areas, cyclists will use side streets and then walk their bicycles to bike racks or the business they are planning on visiting.
Share the road to keep people safe, Bradshaw says.
— Pay attention at intersections, exiting driveways and when pulling into traffic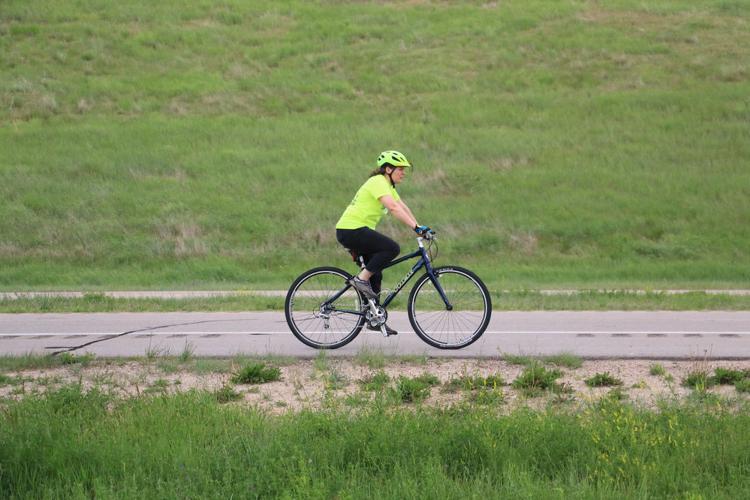 Bradshaw says that national data shows that most crashes between a person on a bike and a person in car, about half of the time, it is the fault of the person on the bike. The other half of the time, its the person in the car that is at fault. And, regardless of fault, Bradshaw said, in most cases, both cyclist and driver could have done things that would have prevented the crash or reduced the severity.
In the event of a crash, however, a person on a bike is more likely to be seriously injured, as they are only protected by a helmet.
"A helmet will protect someone if they fall of their bike," she said. "But, if they are hit by a car, that's an impact to the human body. There is no protection."
The majority of crashes occur when at intersections as drivers are turning or when they are pulling out of a driveway or parking spot.
"Expect the unexpected," Bradshaw said. "If you are turning right, don't just look left to check for oncoming traffic, look in both directions and in the whole lane."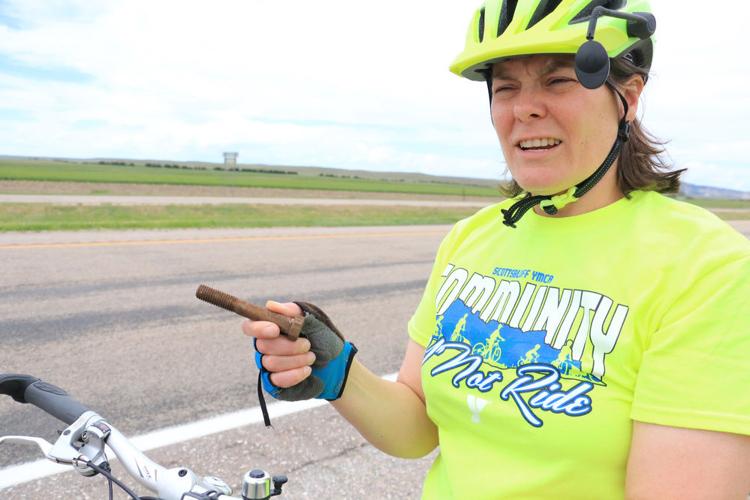 Drivers opening their car doors can be a problem for cyclists, who typically will try to ride on the right outermost part of the driving lane. Bradshaw suggests the "Dutch Reach" method to help you see cyclists: Rather than using your left hand to open the car door, use your right hand. Drivers are more likely to see a cyclist as they look over their shoulder and out the window, ensuring they don't open their doors into the path of a cyclist.
In the bicycle-friendly driver training that Bradshaw has been offering in the area, it stresses one key point: "Think about these situations in advance so you know what to do when you are out on the road."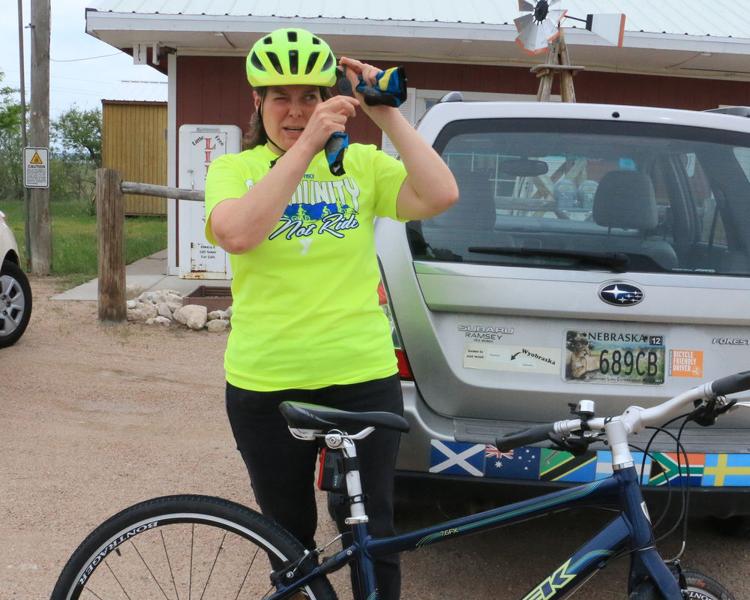 View a video slideshow on some of these tips, including examples of Bradshaw using traffic signals that cyclists for the Tour de Nebraska will be using as they travel around town. Bradshaw said many drivers seem to be confused when she uses signals.