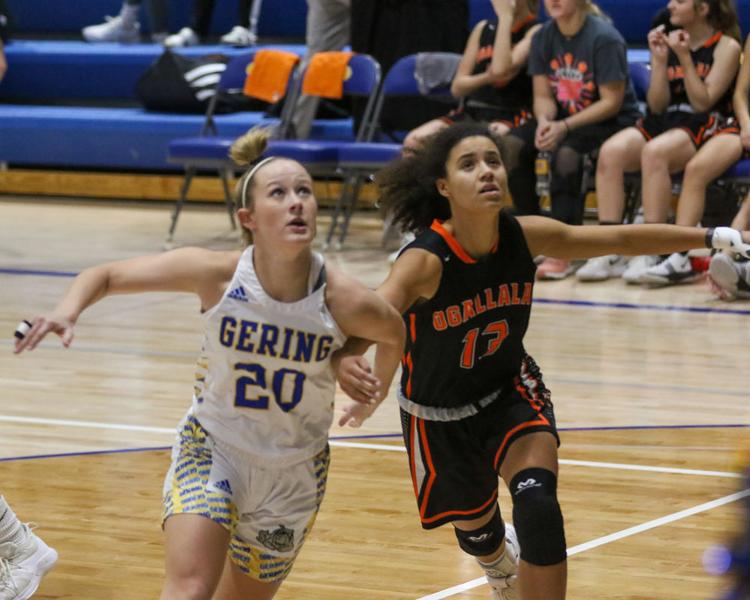 Taylor Philbrick is taking her senior year with plenty of leadership skills as she enters the final semester of her time at Gering High School.
Philbrick is a starter on the Gering basketball team, where she has played the sport since she was little. Basketball, however, is her secondary sport. Her love is soccer, where she already signed to play collegiately at the University of Nebraska at Kearney. On the soccer pitch, she is a scorer and helped the Bulldog team last year to a sub-district title and a berth in the district finals, falling one game short of the state tournament.
This start of the basketball season has been a learning one for the team as the Bulldog ladies are young in varsity experience. The Bulldogs are 2-7 on the season with wins over Alliance at the Western Conference Tournament and then a win over Mitchell, which was the first time Gering has beat the Tigers since 2012.
Gering will be back in action on January 2 when they head to the 3-day GNAC tournament. Gering will play Scottsbluff at 2:45 p.m. MST. The Gering boys earned the fifth seed in the tourney and will play No. 2 Hastings at 6:15 p.m. MST. The tourney runs through January 4.
Philbrick reflected on her senior season and her future during a one-on-one interview.
MR: This is your senior season in basketball, how is it going?
TP: It is actually going really good. We are growing a lot this season and we can only get better. We still have a couple things that we need to work on, but I see us doing really, really well by the end of the season.
MR: Coming into the season, there wasn't a whole lot of varsity experience, it does take a while to get that varsity experience.
TP: Western Conference definitely helped us get into the groove of things and get some varsity experience under our belt. We are just getting better by every game. The underclassmen are doing the right job of picking up everything. That is a big change from coming from eighth grade to varsity, so I am really proud of how everyone is stepping it up and getting into the grove of things.
MR: In a lot of games you have one or two good quarters and then some quarters that are not so good. It takes time to avoid those bad quarters?
TP: The first quarters are always our best and I don't know what happens in the second quarter, but we have been working on that. We will get it figured out.
MR: After basketball you go into soccer, second semester will be busy for you>
TP: The second semester is the busy season. But I am excited for it. I am ready for my senior season. We will do better than everyone is expecting [in soccer].
MR: What does it mean to be a senior and realizing that this will be your last year you will playing as a Bulldog?
TP: It is really sad because I grown up playing soccer with all these girls, but I am also excited about going to UNK and getting to play there for another four years. It is training me for a higher level.
MR: What does it mean to be the first senior class to be in this new gym. What is this new gym and school like?
TP: It is awesome. I wish the seniors had more time in it, but I know we are all grateful for the year we get to spend in it because the seniors last year didn't get a chance. They were here through all the construction and they didn't get a chance to play in it. It is awesome to be playing in one of the nicer gyms in Nebraska.
MR: What is the best part of this new school?
TP: The weight room and the ice baths are so nice. It is such a big change from what we had before and having the nice new stuff is pushing everyone because we are so excited about it. Everyone is working harder.
MR: 2020 is coming, do you have any New Year's resolutions?
TP: I just want to keep pushing myself to be the best athlete and being in the best shape. I just want to work hard this summer and in soccer season to develop myself better and to be the best when I go to Kearney.
MR: Favorite restaurant?
TP: Applebee's
MR: Favorite color?
TP: Blue. I also like purple.
MR: Favorite animal?
TP: Dog.
MR: Favorite sports team?
TP: Probably the U.S. women's national team.
MR: Worst Christmas present"
TP: My grandpa always gets us these Monkey-like things and I never know what to do with them. It is like shampoo, conditioner, bodywash. They don't smell the best. They are just funny.
MR: Favorite Christmas song?
TP: Probably something from Justin Bieber. A Christmas Song by Justin Bieber.