The Post Office in a small community is a social place. An unofficial meeting area where friends share what has gone on in their lives. Since 2001, Hemingford residents have been used to seeing Postmaster Rick Wobig's smiling face as they approached the counter at the Hemingford Post Office.
Wobig will be working his last day as Postmaster on Friday, November 1, 2019 with his official last day coming at the end of November.
He was celebrated on Tuesday afternoon with cake and hot cider and as friends came in and out to wish him well one thing was noticed, he knows everyone! Not only does he know everyone's names but also what vehicle they drive. He can tell you the Post Office box of pretty much everyone that has ever had a box over the last 31 years that he has been with the postal service.
That's just the way his mind works, he's great with numbers.
"31 years, with 17 of those in Hemingford, most Postmasters aren't in one place for so long and I consider myself lucky," said Wobig. "Aw Hemingford, the businesses especially have been so supportive and the general population has been too. I've been very blessed, very thankful. We've been so lucky."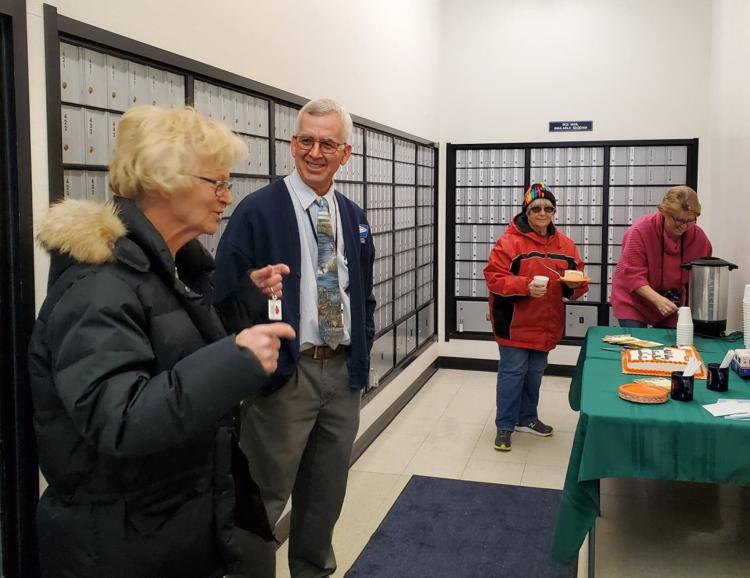 His wife Patti joked that he was going to no longer be "tied his job", referencing his love for ties.
Wobig met his wife while working at the Alliance Post Office. Their sons, Austin and Riley, both graduated from Hemingford High School and are both currently living in Lincoln.   
During his retirement celebration Debra Henderson, who recently retired after 43 years with the Post Office, was one of the well-wishers.
"There is life after the Post Office," she told Wobig.
"There is life after the Post Office, you're right," he replied. "At one time I might have argued that with you but since last spring I would say you're exactly right."
 "It's time for me to go," he added. "I knew this year was going to be a challenging year but I didn't realize how tough it was going to be. This has been a tough year for mail work."
He and Patti are excited to be able to travel a lot more. Traveling and being able to spend more than a day or two somewhere has always been a challenge, especially during the holiday season.
"I've loved Christmas' at the Post Office," Wobig said. "If there's a good, fun time to be here it's during Christmas time. But the worst part is not being able to go anywhere to visit family. If we did go anywhere it was only a day and a half and we were driving home Christmas day."
Rick was born and raised in Cody, Wyoming where he graduated high school in 1981. He earned his Bachelors of Arts in History from the University of Nebraska in 1986.
He wanted to be a teacher but money became an issue when he was looking at going back to school to get his teaching certificate. So instead he took the postal exam in 1988. He was hired on as a casual clerk in Alliance in July of 1988. There were some retirements that fall and he was appointed Postmaster.  
Throughout the past 31 years of his service for the United States Post Office he worked at only four locations: beginning in Alliance in 1988, transferred to Valentine in 1990, then back to Alliance in the fall of 1990. In January of 1999 he was selected as Postmaster in Mullen, before Hemingford in February of 2001.
For the month of November, Ellen Fester will be fulfilling the Postmaster duties in Hemingford before the position is filled.