Last Tuesday evening there was a send-off pep rally for the Alliance High School Bulldogs at the Performing Arts Center. Bright and early the next morning the boys, coaches, and managers loaded buses and headed east to play in the Class B State Championship Game.
Fans of the Bulldogs followed, were not far behind, or in some cases were already there waiting for the game that was to be played on Thursday.
"On the trip down I was reading things on my computer and starting to be concerned and then the news comes out about limiting fans," said Head Bulldogs Coach Michael Baker. "It certainly wasn't what we thought was going to happen when we loaded the bus on Wednesday morning. We had to put together lists of the immediate family that would be allowed in. The guys really handled it very well."
"Things were happening so fast that we weren't even sure they were going to let us play once we got there," Baker said. "We were worried they were going to pull us off the court because that was happening across the nation. Nebraska was one of the few states that continued to play. That happened with college, high school, and professional."
However, "Once the game started the kids played hard and all of that was shoved aside."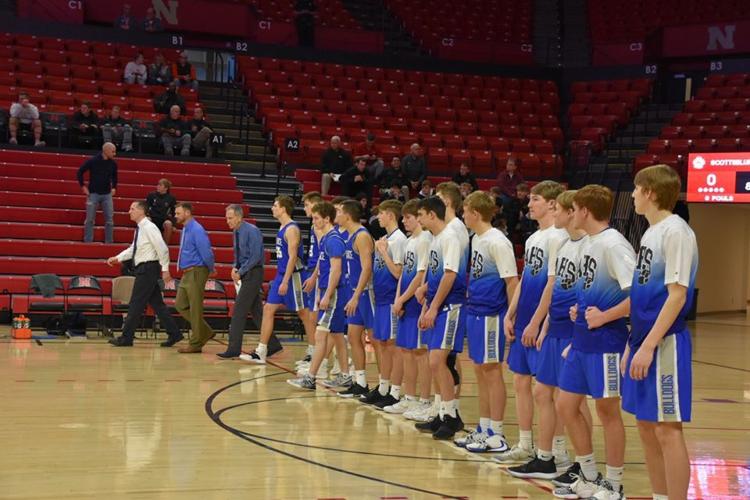 The Bulldogs first match-up was against the Scottsbluff Bearcats. Alliance held a lead through the first half, but Scottsbluff outscores them 38 to 22 in the second half to take the win.
The Bulldogs finished the year 20-7.
"Our game was much closer than the final score showed," Baker said. "The guys certainly had a chance to win the game. We didn't play very good offense but our defense was outstanding and gave us a chance there at the end but we just couldn't make enough shots."
"But the atmosphere did not make it feel like that state tournament environment. Last year when we played in that same tournament in that same session it was almost a full house, it was loud and exciting and this year it just didn't have that feel to it. They tried to pump in some music and the parents and family there did a good job of making as much noise as 100 people could. It really did take a lot out of the game."
Baker noted, "All eight other teams and coaches from class B were able to watch the game and they were all really impressed by how we played and how we did things. It was just too bad that we couldn't have played somebody different and we couldn't have advanced to the next round."
"The State Tournament had a really different feeling this year," said KCOW Sports Director Mike Glesinger. "We have a lot of history at the Devaney Center, but without a lot of our great Bulldog fans…it just wasn't the same. We did have about 95+ fans at the game and they were seated behind me, so that was nice and I could hear them."
"Honestly once the game started, I really didn't notice the big, almost empty arena, just concentrating on the game, but afterwards, I felt bad for those great fans that couldn't be there," Glesinger said. "I hope I provided a service to those folks. It's unfortunate that the events of the world kind of overwhelmed what should have been a great experience for our team. But we tried to make a positive out of a tough situation and I am glad that the tournament was played."
The roster included AHS Seniors Trevor Dubray, Joel Baker, Kaden Kindred, Aaron Farritor, Kirk Sanders, Konnor Farritor, Collin Schrawyer and Bradyn Palmer.
"They are all outstanding young men," Glesinger said. "Thanks for a great season and great memories."
All of the seniors had played in the state tournament last year as well.
"Joel (Coaches' son) actually played in three state tournaments," said Baker. "He's the only kid that's done that in the last 90 years in Alliance."
"They're a neat group that provides a lot of leadership and production on the court," Baker said. "They will be missed. Our juniors and sophomores are looking forward to stepping up into different roles."
Regarding next season, "We're optimistic. We have one returning starter and one that played quite a bit. We'll be looking forward to, hopefully, another trip down there. A lot of other teams are losing a lot of other players as well so class B will be wide open next year and we're hoping to be in the midst of it again."
The rest of the roster included juniors Crayten Cyza, Caeson Clarke, Chase King, Chase Boyer, and Jaron Matulka; and sophomore Kellen Muhr.
Assistant Coaches: Matthew Whitney, Kelley Dickerson
Managers: Alex Pfeiffer, Celeste Whiwer, Caisey Pfeiffer and Laykin Sperl
Bradyn Palmer's mom Cassie Palmer was able to be at the game.
"It was weird, really weird, being in there with all those empty seats," Palmer said. "Just glad they also got to experience last year when it was wild like it should be. And incredibly sad that he's a senior and this was it."
Kaden Kindred's mom Cassie Laue said, "It was fun! But definitely different, only immediate family could go so it was totally empty there. He was sad after they lost, they all were, but all the families stayed until they came out of the locker room. Then we cheered and gave them lots of hugs. They played their hearts out and it was still a wonderful experience!"
"Despite everything it was still a great time," said Konnor Farritor's mom Kari Farritor. "Wish we could of had a crowd to cheer the boys on but we tried our best to make it loud. Happy they didn't cancel the whole tournament like a lot of the other sporting events."
One thing that was stressed at the send-off part in Alliance before the team left was the importance of the crowd being there to show their support. Since the vast majority of the crowd was unable to attend the game, Chelsie Herian, BBDC Director and ARC Board Member called up the Alliance Recreation Center Director Mara Anderson and asked if they could host a Bulldog Watch Party complete with food and drinks. Together with the help of Alliance Chamber Director Susan Unzicker, they made it happen.
"The middle school band and some high school band members showed up, the AHS cheerleaders, and community members gathered to cheer on the team," said Anderson. "Thanks to Box Butte Development Corporation, the Alliance Chamber of Commerce, ALLO, and Dairy Queen, we were able to stream the game and send the team our support. At such a precarious time, it's reassuring to be a part of a small town community like ours. Win or lose, we will always be proud of our homegrown team playing on the big stage."
"It was really thoughtful," said Baker. "It doesn't surprise me a bit. That's kind of what our community does, they are very unique in that regards. We talked about that before the game… there's not going to be people here but they'll be here in spirit."
The other first round game was Roncalli (Omaha) vs Hastings. Roncalli won with a score of 60 to 58 in overtime.
Roncalli took on Scottsbluff and outplayed them by a score of 68 to 55.
Saturday Roncalli paired up against Skutt (Omaha) Catholic at Pinnacle Bank. Skutt Catholic walked away the Class B Champions by a score of 59 to 31.
In other exciting news, Alliance High School Bulldog Head Coach Michael Baker was selected as the assistant coach for the Nebraska High School All-Star Game that will be played in late July.
Baker has taught in Alliance for twenty years and has been head coach for nine of those years.
"I was shocked when I got that nomination and even more surprised when they picked me," said Baker.
The 52nd Annual NCAA Boys' Basketball Game will be Monday, July 20th, 2020 at 8:00 p.m. at the Lincoln North Star High School.