Though the Nebraska Attorney General's Office has trained more than 1,000 officers in two years on human trafficking, an official who leads the state's human trafficking task force says citizens learning the signs of human trafficking and reporting it are among the keys to stopping the crime that preys on and exploits the vulnerable.
Glen Parks, who leads the state's human trafficking efforts as coordinator of the Nebraska Human Trafficking Task Force, will be among the speakers at the Panhandle Human Trafficking Symposium on Wednesday, Sept. 26, at the Gering Civic Center.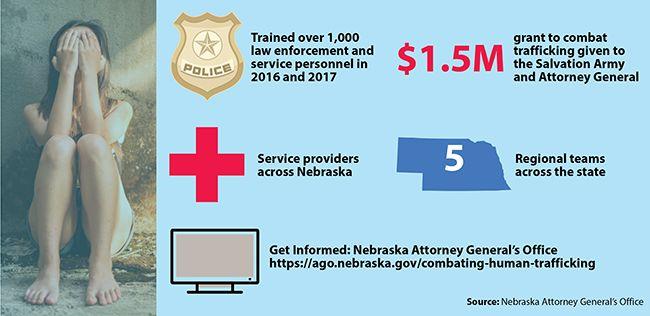 Parks spent nine years in India, fighting sex trafficking as legal director of an anti-human trafficking organization. He joined the Nebraska Attorney General's Office in October 2016, leading the effort that started in October 2015, when the attorney general's office, in collaboration with the Salvation Army, received a grant totaling $1.5 million to fund its anti-trafficking efforts.
The efforts have included the formation of five task forces across the state. Each region has a team that develops protocols within the region for responding to a human trafficking situation or tip, as well as proactive investigations. The Panhandle Regional Human Trafficking Task Force is headed by Scottsbluff Police Chief Kevin Spencer.
The task forces are intentionally multi-disciplinary task forces, Parks said, with social service providers and law enforcement serving on the tasks forces.
"In part, because this crime obviously has live victims who have very particular types of trauma and there is a need for, as soon as possible, trained people to help the victims become survivors and thrive after that."
In the Panhandle, Parks said, he feels like that task force effort has gone well. Area social service providers and law enforcement have developed a collaborative and strong relationship.
Laws against labor and sex trafficking are fairly new in the United States and Nebraska history. Parks said that the federal government passed the first trafficking law in 1999 and the state followed in 2000. The longest existing task force effort in the state, the Omaha Child Exploitation Task Force, an FBI task force, was not formed until 2010. In 2017, Nebraska enhanced the penalties for human trafficking.
It's an issue that has just been starting to be talked about, and understood more, in recent years, he said.
"We didn't used to think stuff like that happened hardly at all in Nebraska and when we find out that it does, we can't sit by and do nothing,"
Many in law enforcement didn't understand the dynamics of sex and labor trafficking, he said. The victimization that occurs in human trafficking isn't necessarily obvious. It's often not physical chains making a victim unable to ask for help, he said, but often psychological chains, such as threats and coercion.
Cases throughout the state show that human trafficking is occurring. In the Panhandle, the task force has made arrests in three proactive investigations since December 2017. Parker also pointed to the conviction of two people, Vishnubhai Chaudhari, 50, and Leelabahen Chaudhari, 44, of Kimball, who managed a Kimball hotel on labor trafficking charges earlier this year. They were both sentenced to prison after harboring Chaudhari's nephew, who was an undocumented Indian national forced to work for no pay. According to information released by the U.S. Attorney for the District of Nebraska office, the man was restricted from leaving, isolated and verbally and physically assaulted.
"It's urban, it's rural. It's west, Its east. It's sex trafficking. It's labor trafficking," he said.
Human trafficking cases are often slow moving cases, often times made more difficult to prosecute because of the trauma suffered by victims, needing time to be willing to talk to law enforcement or get them involved.
"Labor or sex trafficking victims don't generally label themselves as sex trafficking victims and they don't generally reach out for help. That has been part of the misconception in law enforcement and society in general — that (thinking) that if I was ever in that situation, and I had a chance to run away, I would, and they didn't, so they must be there of their own free will," Parker said. "There is ample research and testimony that is not the case. People are broken down, there is this climate of fear, so an ability to escape does not mean at all that they were not trafficked, that they don't feel forced to continue doing what they are doing."
As more crimes are prosecuted, Parker said, he believes that people will become more aware of human trafficking.
Everyone has a role in stopping human trafficking.
Human trafficking "is thriving in the shadows," he said, "but really it's sort of in the open. We just don't know what to look for."
Parker said that he has a "dream" of Nebraska having a sort of Neighborhood Watch approach, where average Nebraska citizens have learned about the signs of human trafficking, would keep handy the number for the National Human Trafficking Hotline (1-888-373-7888) and contact authorities if they see signs of human trafficking so that law enforcement can follow up.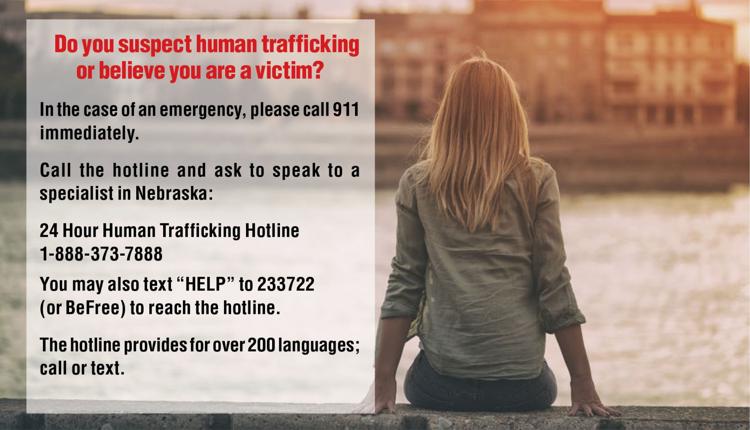 While he coordinates the task force, attends a lot of meetings, provides a lot of tools and training to law enforcement, there is only so much Parker, and other law enforcement, can do.
"None of it is any good at all, until we find out that it is happening in this house, on this street or on this website," he said. "We have to have (information), either through our own proactive measures, or just a citizen... We talk about ending trafficking in Nebraska, but we are only really going to make substantial strides with that in cooperation with the public."
During Wednesday's symposium, Parker said he will talk about human trafficking laws in Nebraska, including educating attendees about the differences between trafficking and prostitution laws; the climate of fear that is part of the crimes; and victim vulnerability. Anna Brewer, a former FBI agent and an investigator with the Nebraska Attorney General's Office, will talk about the signs of sex trafficking, especially those such as nurses and people who work with the public may see, and what to do if they recognize or suspect human trafficking is occurring.
The Panhandle Human Trafficking Symposium will be held Wednesday, Sept. 26, 8 to 4 p.m., at the Gering Civic Center. Information about signing up for the symposium and registration is available on the Panhandle Partnership website, panhandlepartnership.com, under "training." The cost to register is $20. The event is also open to the public and continuing education credits will be offered to doctors, nurses, social workers and others.
Scholarships are being offered for persons who may not be able to afford the registration fee. Contact Jessica Lecher at jessica.lecher@panhandlepartnership.com or 308-633-3818 for details.