OSHKOSH — Taking a stroll down Main Street in Oshkosh, one can see the history of the town's buildings and relive the past as the businesses inside work toward their futures.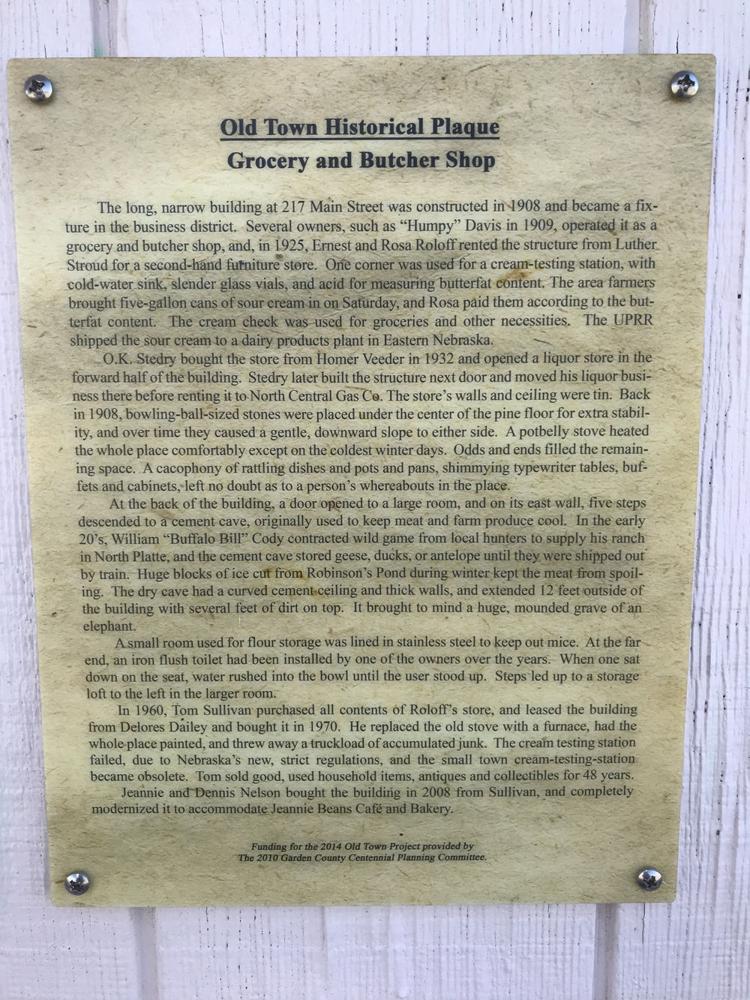 The 2010 Garden County Centennial Planning Committee provided means and funding to put up a series of Old Town Historical Plaques on the buildings of Main Street with a detailed history of each building. A building that most recently housed a cafe has a plaque indicating its original history as a grocery and butcher shop dating back to 1908 and details ownership from people such as "Humpy" Davis.
The Cornhusker Kitchen building was formerly the Morris Hotel, but was originally built in 1920 by Dr. George H. Morris to house a Buick-Chevrolet dealership operated by Lee Nigh. Morris wanted to own a Buick, and he figured having a dealership in town was the best way to facilitate that.
For Oshkosh Mayor Jim Levick, whose work office sits in the historic Nebraska State Bank building on Main Street, the mix of the past and the future is a balancing act.
"You've got to realize that each community has its own culture, so what works in one community doesn't work in the others," he said. "Part of that goes back in looking at what your history is and realizing that you can't stay the same forever. There are going to be changes, which aren't always comfortable, but knowing what the history is and what the culture is, just trying to keep the changes within what will still continue to fit the people that live here. With 880 people, you still have the same volunteers and people to work with, so you've got to work with everybody to make it go in what the majority of the people think is the right direction."
Mike Piva, now a member of the Oshkosh City Council. grew up on a farm just south of town, but had left Oshkosh in 1982 to go to college. Employment kept him away from the community until he and business partner Mark Ferrari saw an opportunity to move their specialty coffee business to Oshkosh in 2007. Piva said a longing for the history of his hometown made him desire to return.
"There's so many memories of Main Street that I have," he said, "and the business owners, I clearly looked up to them because there was always something going on. They knew what was going on in town. Any time there was a celebration, Fourth of July, Santa Claus coming to town, they were always there, and I thought, 'You know, these people get to do all the fun stuff,' and I still think of it that way. I think in my mind, whether conscious of it or subconscious, I always wanted to come back home and have a business on Main Street because of that. That always stood out in my mind."
Mark Ferrari Specialty Coffee sits on First Street, a block off Main Street, so Piva says he's still not quite satisfied. However, Piva said that when he looks at his hometown, he sees opportunity. He said, like any other small town, the talk is always that there is need for more business, more industry and more housing.
"But some of the obvious, low-hanging fruit that we can really do is we need to make it so that people that just randomly drive into town, or maybe they're looking for something, that we're prepared for them, not just for the local Fourth of July celebration or around the holidays, we need to be prepared for them all the time," Piva said, emphasizing a clean, welcoming appearance, especially at the entrances to town.
Ferrari said the feel of Oshkosh and the people of the community have really made it home for him.
"Really, for the business we had in hand, we could set it up anywhere," he said. "It's just once I realized what a great opportunity this was being in a small town, it just made perfect sense."
Piva said childhood memories — good or bad — can have a tremendous impact on individuals as they grow older.
"Luckily, I had a good upbringing in Oshkosh," he said. "I loved the people here. I guess I always think of Mayberry (from the Andy Griffith Show) because you have those Aunt Bea characters, you have the Barney characters. … To me, there's great comfort with that. That's what you seek out in life is that comfort. Familiar. But there's a lot of new things going on in this town."
While there is a desire to preserve the past —  such as a community effort to preserve the town water tower —  Levick said there is a vision for the future as well.
"The people are optimistic," he said. "If you're not optimistic, if you're starting to look for the worst-case scenario, eventually that ends up finding you. I don't think the people of Oshkosh are like that. I think they enjoy the community, we have people move in from other areas, and they seem to take an active part in the community. A bond was passed for the pool, which meant that the people looking out in the future, they're willing to pay the money to have a place for the kids to go swim in the summers. That takes optimism. ... As you look past the short term, I think the people are looking to make sure Oshkosh is viable for the future."