In the small town of McGrew where the population sign reads 99 but 75-80 is a more accurate number, there is a man named John. Every day, John goes to his favorite place in town, really the only place in town, The Pink Palace.
John is there every single day at the same time, sits in the same seat at the end of the bar and has four beers in a special glass that is kept on display for him. When he is finished he turns on their window lights before dark and then heads home, which is right around the corner. He usually walks, but in the winter he can be seen driving his John Deer Gator with a blade on the front to get through the snow.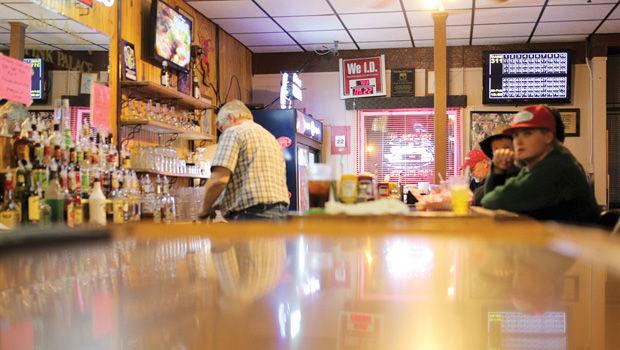 [Click on photos to see cutlines.]
Jody and Angie Buskirk, who own the Pink Palace, are really his family, as well as his phone service. John doesn't have a phone so if his sister worries, or his doctor needs to talk to him, they call the Pink Palace. If he doesn't show up for a few days, Angie and Jody usually pop by just to make sure he is OK. If he's not home, Angie knows where to find him when it's nice — fishing for catfish. If he catches a big one, he makes sure to swing by and show it off. This is just one of the many long-time customers of one of the Panhandle's longest-running businesses.
The Pink Palace was built in 1911 and served as a motel for the railroad. As the area grew so did the business and by the 1940s The McGrew Lounge as it was called became a barbershop and small bar for locals. In 1970, a simple food menu was added and you could get a burger and fries. Then, in the mid 70s, the then-owners Dora and Duane Paben decided to ditch the brownish-reddish brick color, and paint the building pink after getting a sale on the paint. Thus earning its new name "The Pink Palace."
"They got a deal on pink paint and just went with it," said Angie Buskirk.
Duane Paben recently died; his wife Dora is still a resident of McGrew.
Jody and Angie Buskirk bought the Pink Palace in 1998, and have owned and operated the restaurant ever since. Their first order of business shortly after taking over was expanding the menu, which has now grown to include items such as tacos, chicken sandwiches, Philly steak and cheese, chicken fried steak fingers, enchiladas, and their famous prime rib served on Friday nights.
The restaurant started serving prime rib in 2001 after one of their food dealers convinced the Buskirks to give it a shot. Fifteen years later, Friday night is still one of their most popular nights as families and locals pack the house.
The prime rib was also one of the favorite dishes of Justice Antonin Scalia who would come visit the restaurant anytime he was in the area hunting. The Buskirks always enjoyed his visits, and said he blended in well with the locals.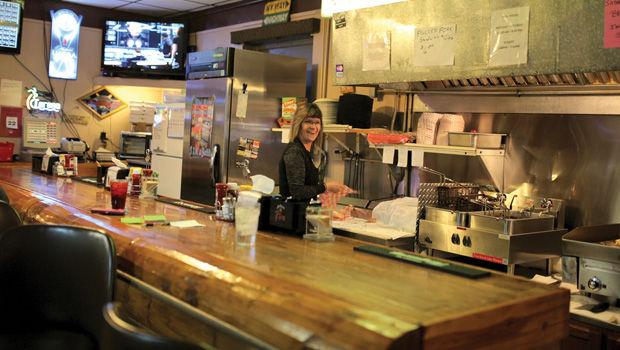 "You wouldn't know who he was if you came in here, he was always chatting with people, very friendly and fit right in with us," said Angie Buskirk.
At first glance, the parking lot is full of trucks, golf carts, gators, side by sides, four wheelers and motorcycles. The site of it might make you assume The Pink Palace is a place where the jukebox would screech to a halt if you walk in the first time, with a bunch of locals wondering who you are, but instead you are greeted by a friendly atmosphere set up by the Buskirks as the owners move effortlessly from table to table talking to all their customers like long-time friends, which many of them are.
Of course, if they are extra busy you will see Angie behind the bar cooking the food, with almost the entire kitchen visible from the front door and Jody grabbing drinks. He and Angie know almost everyone's drink orders as soon as they walk in. The customers and the people are what have kept the Buskirks enjoying their work for the past 18 years.
"We enjoy getting to know all of our long-time customers, and getting to know any new people," said Jody Buskirk.
Jerry Weeks lives about two miles south of McGrew and said it has become one of his favorite places to come over the past 20 years.
"If you want to have a good time, and not be judged by anybody while you have some good old country fun and a good meal while you're at it, then this is your place," said Weeks.
Weeks is the owner of Platte Valley Livestock, and the Pink Palace hosts his Christmas party every year.
"I dare you to find a place that throws a better party with better service than here," said Weeks.
Their usual customers come from all areas of the Panhandle and frequencies of visits vary.
One couple from Gering tried it out with some friends, and the welcoming atmosphere and food have had them coming back every Monday for over 15 years now. On Monday nights, the Buskirks open up the pool table for free games, the jukebox is usually cranking country tunes, and most of the regulars catch up with each other while eating and playing pool, feeling almost like a weekly reunion.
Another customer, Jim Cornette from Alliance, visit less frequently, but Cornette says it is a must whenever he has to come southwest. Cornette is 84 and has been stopping by the Pink Palace since before the Buskirks owned it. He enjoys getting his Pepsi and some food, playing a few rounds of keno, and then heads home.
The Pink Palace is currently McGrew's only business. Jody serves as the head of the city council, and says that the restaurant's taxes are one of two sources of income for McGrew, the other being utilities.
"It allows us to fix up the roads, and other small projects in town, so it's a vital part of the community," said Jody Buskirk.
Jody Buskirk has put more work in to the restaurant with a driving desire to make it the best possible experience for the customers and his staff. He works for Cashway foods during the day while Angie runs the restaurant but at night he is always looking for projects to make the business better.
Over the last two years that work has included hand-building the wooden bar and tables that furnish the restaurant, remodeling the bathrooms with a classic rustic feel including a "bucket sink," expanding the dining the room, and creating an outdoor patio with large grills for the steaks, a stage for live music, and one popular sand volleyball court.
Volleyball is now a weekly tradition in the spring and summer, where people gather every Wednesday night for some fun competition and enjoy the beautiful country summer nights. Jody considers starting Wednesday night volleyball one of his greatest successes. He recalls Budweiser donating a keg for the first night, and everyone having a great time despite some people getting a bit competitive.
"A guy missed the ball, got upset and broke his hand on a railroad tie, but other than that it was a great time," said Buskirk, laughing.
Volleyball has become so popular on Wednesday nights that Jody felt they needed something to do in the fall and winter as well so he introduced a free poker night where customers can come in and earn prizes through the weekly games of Texas Hold 'Em.
Jody Buskirk's other favorite success out of the restaurant has been the annual Golf Scramble. The 26-team event has become so popular it is now invite-only as a way to thank loyal customers. Afterwards the teams always come back for a meal.
The Pink Palace almost changed ownership a few years ago, with Jody and Angie looking to sell the property, but after six short months on the market, and a few offers, they just couldn't pull the trigger.
"When we got into this the average bar owner usually lasted 4 or 5 years before selling. I told myself I wouldn't go longer than 15 years," said Jody Buskirk. "But now we just can't imagine selling the place. We'd be lost with out it."
"I cried when they put up the For Sale signs," said Angie Buskirk.
Angie had worked at the Pink Palace for years before purchasing the businesses, which helped make the transition easier in the earlier years.
While Angie continues to run the place during the day, Jody says he will continue to find projects to streamline Angie's work, and with no plans to sell, the Pink Palace will continue to be a proud staple in the Panhandle.