If it feels like the holiday shopping season is sneaking up on you, you're not wrong.
With Thanksgiving falling on Nov. 28 this year, the official holiday shopping season — the consumer countdown to Christmas — is six days shorter than in 2018.
What does that mean for your shopping list? Expect retailers competing for your money and attention to push deals and discounts before Black Friday and well after.
"Black Friday has really become Black November in so many ways," said Ken Perkins, the president of Retail Metrics Inc.
Despite the shorter turnaround, retail analysts are predicting a fairly strong shopping season. Unemployment remains low, and there has been less stock market upheaval compared with last year, although some uncertainty remains regarding the effects of President Donald Trump's tariffs and trade policy. Holiday earnings among retailers could grow by 4% or so, according to Perkins.
An estimated 165 million people likely will shop over the long holiday weekend from Thanksgiving Day to Cyber Monday, according to a survey by the National Retail Federation and Prosper Insights & Analytics.
"The shorter season gives people a little less time to shop and maybe not procrastinate as much," said Kristi Andersen, a commercial real estate agent and associate with the Colliers International real estate firm in Omaha.
This season also is different because more retailers such as Walmart and Amazon are offering next-day delivery, raising the pressure on them to meet shoppers' needs without any glitches. Amazon has said that more than 10 million items now qualify for next-day delivery for its Prime members, who pay $119 a year.
Stores like Nebraska Furniture Mart and big chain retailers like Walmart and Target are adding or expanding toy departments to fill the void left behind by the bankruptcy of Toys R Us, which shuttered stores last year.
"NFM is always assessing new business opportunities, and the toy category was one we just couldn't pass up," Nebraska Furniture Mart spokesman Andy Shefsky said in an email. The store will be stocking plenty of toys and merchandise tied to the wildly popular "Frozen" movie franchise — "Frozen 2" opened in theaters Friday.
Nationally, items expected to be hot sellers include electronics and gadgets such as Instant Pot pressure cookers, Apple watches, 4K and 8K TVs, video game consoles such as the Nintendo Switch and apparel from companies such as Nike, Adidas, Under Armour and the North Face, Perkins said.
While Nebraska Furniture Mart will continue its streak of opening on Black Friday but not Thanksgiving, many stores at Westroads Mall, Oak View Mall, Shadow Lake Towne Center and Village Pointe shopping center, as well as standalone stores like Walmart, Best Buy and Target will open their doors on Thanksgiving, usually after 5 or 6 p.m. (Check stores and shopping centers for exact hours.)
The Cabela's in La Vista will be open from 8 a.m. to 6 p.m. on Thanksgiving Day, and then open again at 5 a.m. on Black Friday, a recent shift that started after the Nebraska retailer was bought by Bass Pro Shops. For years, Cabela's stayed closed on Thanksgiving so employees could spend time with family.
Retailers at Westroads decide whether they want to open on Thanksgiving, and about 70% do, said Westroads General Manager Jim Sadler.
"That really takes a lot of the stress off of Black Friday," he said. "Black Friday continues to be a huge day, but you don't get the crush of people at 6 a.m. like we used to."
Even secondhand stores are joining in — Thrift World locations in Omaha are offering 50% off everything on Black Friday.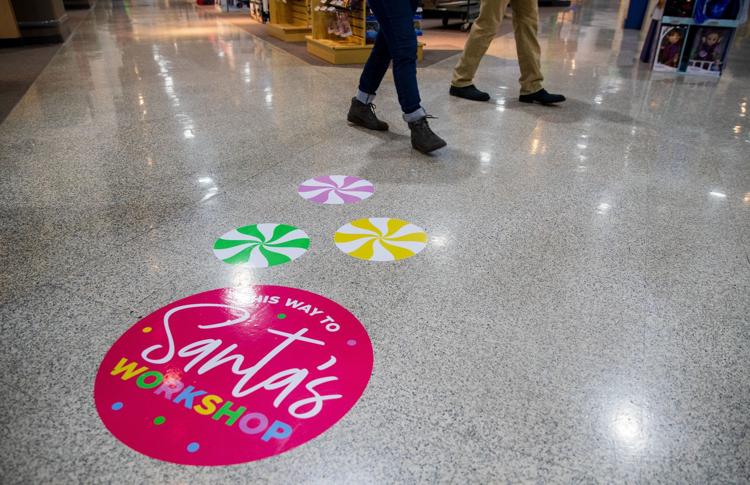 Locally owned businesses also are hosting Small Business Saturday events to persuade shoppers to give local vendors a look. Nebraska Home Pediatrics is hosting a Saturday event at the Bellbrook Clubhouse in Gretna, Fat Brain Toys is offering discounts and the Old Market shopping district promises carolers and maybe even a visit from Santa.
The idea of participating in the shopping frenzy on Thanksgiving night and Black Friday is polarizing — some people can't imagine cutting their holiday dinner short, shivering in early morning long lines or competing with other shoppers for a limited number of doorbuster deals. Other local shoppers said they're trying to cut down on their consumption and waste, valuing experiences over physical gifts.
Omahan Cindy Kellison Tock has experienced Black Friday through multiple vantage points — as a shopper, retail worker and now an online seller of weighted blankets. She's not a fan of venturing out on Black Friday.
"The lines, the rude people, the offers that were limited … it was awful," she said. "I shop online for almost everything I purchase."
The ease of online shopping remains a powerful draw. Perkins, of Retail Metrics, said more people are buying off their phones, too, as mobile shopping apps improve. Adobe Analytics predicts online holiday spending this year will exceed $143 billion.
"I own a local business," tweeted Micah Yost, the founder of an Omaha co-working space. "I love local, but Amazon is just too good. So easy. So seamless. Our Black Friday weekend shopping will be all online. If local businesses want to get people out of their living rooms on a cold football weekend they're going to need to up the game."
Sadler said that for most shoppers, it's not an either-or proposition — they will buy some items online, and also head to brick-and-mortar stores to try on shoes or hunt for deals.
"The thing I've found is the people coming out for the sales and the shopping, they've got a little bit of cabin fever, too," he said. "They've spent the day holed up with relatives, and they're ready to get out and stretch their legs."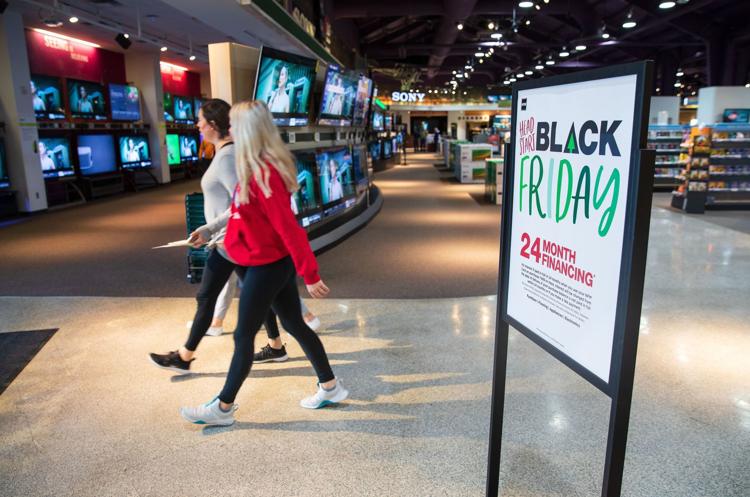 Some have turned post-dinner or Black Friday shopping into a family tradition and say there's a kooky energy that bonds the shoppers willing to brave the crowds at 4 a.m.
"My niece, myself, my three daughters and my 75-year-old mother head out late Thursday after dinner," Tina Campbell of Omaha said. "All the kids are home from college, so it's a good time to get them together to go and look and try things on. We usually shop until the afternoon on Friday."
Potential destinations for Campbell's family this year: the Nebraska Crossing Outlets near Gretna, Walmart, Target and maybe Menards, Kohl's and Westroads Mall.
On the Omaha-area retail scene, new activity is largely being driven by pop-up markets and discount stores. The Rush Market, a home furnishings pop-up, moved into the former Younkers space at Oak View Mall. Other new additions include a Burlington Coat Factory at Shadow Lake in Papillion, a TJ Maxx/HomeGoods at Nebraska Crossing and a new Dollar Tree in Bellevue.
Temporary pop-up shops and discount retailers continue to keep local and national consumers shopping in brick-and-mortar stores while online sales also continue to increase, according to a third-quarter Omaha retail report from Colliers International.
Perkins said discount retailers will continue to do well — the American middle class is feeling increasingly squeezed by rising education, child care and health care costs and people have less money left over for nonessential purchases.
Brian Lemon, the marketing director for Shadow Lake, said sales at Burlington Coat Factory already have exceeded expectations.
"We're expecting a big turnout," he said.
This report includes material from the Associated Press.