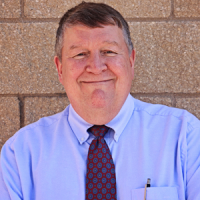 Jerry Purvis
Bio

Jerry Purvis is a reporter with the Star-Herald. He can be reached at 308-632-9046 or emailed at jpurvis@starherald.com.
The Panhandle Business and Professional Women (BPW) presented its annual awards during its Wednesday luncheon at the Scotts Bluff County Club.
Food insecurity, a problem in the community even before people knew what COVID-19 was, has only been made worse as the virus caused economic a…
The National Balloon Federation of America announced Tuesday that it will postpone its 2020 U.S. Nationals Hot Air Balloon Championship event until next year, citing the growing number of COVID-19 exposures throughout the nation.
Colleen Johnson, executive director of the Old West Balloon Fest, said the event committee has been working closely with the national federation to address address concerns due to the pandemic.
Every morning after her morning coffee, Ashley Sweeney goes into her home office, closes the door, and, until early afternoon, returns to the 1800s.
This year's Scotts Bluff County Fair Parade has been canceled as the COVID-19 pandemic continues.
It's official. After meeting via teleconference on June 30, the Platte Valley Companies Monument Marathon steering committee announced the marathon will take place as scheduled on Saturday, Sept. 26.
Some parts will require participants to wear face masks, such as transportation to the Wildcat Hills for the full marathon, the marathon expo the previous day, as well as the start and finish lines. If necessary, a staggered start will be implemented.
Four finalists have accepted interview invitations for the position of Gering City Administrator. A fifth finalist had accepted another opport…
With the recent completion of the new Gering Civic Plaza, the first official full season of the new Gering Farmers Market is ready to offer th…
A few weeks back, I wrote that during the early settlement of the area, it was said that a few essentials must be in place before a community …
In 1994, Gering resident Justin Allred and his large family scheduled a backyard cookout for the Fourth of July holiday celebration. In the ev…
View all